Biography
ON WITH THE SHOW

Author/Artist RON HEVENER specializes in animal sports and entertainment.
Mr. Hevener owns one of oldest dog show kennels in the U.S. ("Lochranza,"
specializing in Collies since 1945). His dog "Kane" (Ch. Amberlyn's Bright Tribute)
was featured in his popular novel "THE BLUE RIBBON."
His interest in Arabian horse racing goes back to the early days of
Delaware Park, now one of the leading Arabian racetracks in the US. His
stallion "Nahgua" (Nugui El Khamsin) was one of the first Arabians to race at
Delaware Park and inspired Mr. Hevener's novel, "FATE OF THE STALLION!"
Along with racehorses and show dogs, Mr. Hevener's interest in
Greyhounds started with the adoption of a retired racer and led to a full-fledged
racing kennel and inspired his novel, "HIGH STAKES." Today, he owns sons and
daughters of every major Greyhound racing sire from the U.S., UK, Ireland and
Australia.
An accomplished artist, Hevener figurines and prints from his novels are
bought and traded throughout the world. His original paintings and sculptures
are displayed in galleries and can be found in many private collections.
Mr. Hevener is currently on tour, speaking at bookstores, libraries,
theaters, schools, gift stores, pet stores, dog shows, art shows and horse
shows throughout the country. "Life is a movie," he says. "On with the show!"


A Little Background Information
Dogs & Dreams
In 1962 Ron Hevener read Lad: a Dog, the classic Albert Payson Terhune story of the beloved Collies of Sunnybank. He knew he wanted a Collie puppy.
Within days of his wish the Pennsylvania resident found a male, sable and white puppy, just like the legendary Lad, listed in the local paper. "I took this as a sign," Hevener remembers. The Collie was offered for sale by Jacqueline M. Kauffman of Lochranza Kennels in Manheim and had American Kennel Club (AKC) registration papers. "That was a very big deal back then," he recalled. "I paid Miss Kauffman $35.00 and named the puppy Shawn." At 12 years old, holding that first puppy in his arms, Hevener could not imagine how a life with this faithful breed would bring him full circle.
Since then, the well-known artist, author, and singer's life has been filled with many memorable people and animals, but his friendship with Kauffman and her Collies would create an enduring legacy.
Given the times, Hevener's choice of dogs was not unique. For decades, generations had grown up with a Collie in their lives. Originally the breed gained popularity in the middle of the nineteenth century when it became a particular favorite of Queen Victoria while she was visiting Scotland's Balmoral castle. In Great Britain, with the Queen's influence, this common herding dog moved from cold wind-swept sheep pastures to a warm stone beside a firey hearth. The century old story of the breed's devotion started when the Collie began to share its master's home.
At first the Collie was slow to attract attention in the United States. But in 1919 the popularity of the breed soared with the publication of Terhune's irresistible stories about his loyal do, Lad. Then, in 1938, native Yorkshireman and one-time Pennsylvania resident Eric Knight wrote the heroic tale "Lassie Come-Home." Knight's poignant account of a devoted Collie's perilous trek through all of Scotland to return to her beloved "Joe" forever sealed the breed's status as a faithful companion and courageous shepherd of children. Animal lovers ever since have been enthralled with the books, and subsequent movies and television shows depicting the noble herding dog that hailed from the rugged Scottish hills.
As worldwide appreciation for these gentle dogs grew, a central Pennsylvania woman named Jacqueline Kauffman was carefully selecting her collies from around the country to ensure bloodlines worthy of the show kennel she was creating. Kauffman clearly knew the breed's royal history and named her kennel for a private retreat of the Scottish Monarchy, Lochranza Kennels, now located on a quiet corner beside a towering Victorian home in the small town of Manheim, would eventually become one of the oldest, continuous operating show kennels in the United States.
At the same time, not far from Kauffman's home, animals - both live and inanimate- were becoming an important part of Ron Hevener's life.
As a child Hevener began creating small clay figurines of the dogs he loved. He was self-taught and had an appealing knack for capturing the character of the sculpted animals, which he started to sell to local tourists for 50 cents each. Later his clients included Boscov's and Watt & Shand department stores. He created reclining, aloof German Shepherd Dogs, mischievous Jack Russell Terriers, benevolent English Setters, and of course, sweet-tempered Collies.
His skill at depicting various breeds in characteristic poses was attracting attention from dog fanciers who started collecting his work. Today his collectable figurines, watercolor prints, and fine sculptures are found in the homes of animal lovers and art collectors around the world. Some original "Heveners" were actually handed out in Red Square when the Soviet Union fell and residents scrambled for American artifacts. His figurines have also found their way onto Ebay and "The Antiques Roadshow."
Hevener's distinct pieces are sculpted in his studio with wire and clay and layered with a latex mold. When the mold is sufficiently cured, a casting is made. Hevener describes the process. "After the castings are poured, hardened, and removed from their molds, they are trimmed, filed and smoothed. We set them aside to dry for about a week and then lightly sand them to remove any imperfections." When each piece is ready for painting a base coat is applied followed by an airbrushing of colors and patterns that are slightly different for each figurine. Figurines can be custom painted to match a collector's specific pet. "We finish the piece by adding multiple coats of clear lacquer, giving it a unique, old-fashioned style that we are known for."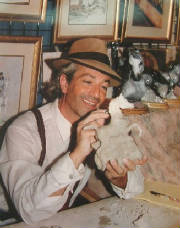 Today, in addition to creating beautiful works of canine and equine art Hevener breeds and shows his own kennel of Collies and Greyhounds and has a small Arabian horse stable. He is also an accomplished writer and singer. He has recorded numerous CD's and was first published at age 16, when he wrote a book about animal husbandry. For his two most recent books, "Fate of the Stallion!," a tale about an Arabian horse he saved from slaughter, and "The Blue Ribbon," a mystery/romance that takes place in the dog show world, Hevener has created limited edition watercolors and sculptures that depict animals and scenes from the stories. Gracing the cover of The Blue Ribbon is a photograph of a self-assured Collie that changed both Hevener's and Kauffman's lives.
Hevener, handsome and direct with kind, dark eyes, calls Kauffman his mentor and gives her a great deal of credit for his success. After meeting Kauffman when he purchased his first puppy, they quickly became friends. As a teenager, Hevener began showing dogs with her help. "Jackie was my teacher. She encouraged me throughout my life, both as an artist, and as a breeder of purebred animals." He recalls how each month when the Collie magazines came out Kauffman would sit him down and they would review each one, studying the "class" of the ideal head type or the correct stance of a champion's forequarter. "Later she would call me and quiz me on these finer points of the breed."
Kauffman was always looking for that one great dog to bring new blood into her kennels and, according to Hevener, she would relentlessly search ringside at shows or study breed magazines waiting for a dog with the characteristics she wanted to introduce into her breeding program.
Under Kauffman's tutelage, Lochranza Kennels amassed many trophies. Her success was inspiring to Hevener. "She showed me the heart and soul of it. Dog, horse and cattle shows. I can always hear her laughing; no matter how bad things were…she had physical problems and was very overweight, but she had a strong mind." He recalls her saying, " You can't give up Sweetie, you gotta keep trying." Hevener calls his friendship with Kauffman "the longest I ever had." One day, after years of friendship and friendly competition Kauffman called Hevener and said, "I think you should come see me."
For quite some time Kauffman had been following a beautiful mahogany and white Collie that had been raised on a sheep farm in Alaska, near the North Pole. As a six-month-old puppy, the dog had won a Best In Breed ribbon, and at 10 months won the even more prestigious Best In Show ribbon, only the third such ribbon awarded to a Collie puppy in the past century. The dog was "CH. Amberlyn's Bright Tribute," better known as Kane. Kauffman tracked Kane's career as he continued to win ribbons and attention. In 1983 he landed on the cover of The Collie Club of America's Collie Review magazine. The dog's confirmation was impressive, so much so that in later years Kane would appear in the American Kennel Club's breed video as one of the examples of "the ideal Collie." He possessed the round, full "cylinder" muzzle, small eyes and the magnificent mahogany coat she had been waiting for. Kauffman had found her dog.
Convinced of the dog's long-term potential, Kauffman bought everything of his - photographs; a hand-written pedigree going back over one hundred years; ribbons and other awards; magazine articles; newspaper clippings; certificates; even his baby teeth. She knew this dog could improve her kennel, and help secure her legacy. And then, demonstrating the confidence she had in Hevener she presented Kane to him, as a gift.
With Kauffman as his guide, Hevener continued Kane's show career to a record setting 12 ½ years. According to Hevener, it was, and still is, "a record for any breed of dog". In the competitive world of show dogs, the average dog show career spans one and a half to six years.
Interest in Kane as a celebrity of the dog world was international. Lochranza Kennels and Kane were featured in America's The Collie Review and Collie Expressions as well as the top Collie magazines of Great Britain, Europe and Canada.
Hevener believes things happen for a reason. "I get chills," he says, "those feelings when the hairs on your arm stand up. I take those signs seriously." Like the feeling he had when he saw an ad in the paper for his first puppy, so many years ago, he is certain those "feelings" have led him to the people and animals, like Kauffman and Kane, that have contributed to his success and happiness.
And though Hevener continues to create a successful life with his art and animals, sadly Kauffman died 7 years ago. "Jackie would be so thrilled," Hevener says "to see how far Lochranza Kennels has come in recent years." As was her wish, all the Lochranza Collie bloodlines now descend from CH. Amberlyn's Bright Tribute (Kane) and can be found in show homes from Europe to Asia. Hevener can name customers who have traveled from as far away as Germany, Russia and China to the small town of Manheim, Pennsylvania, to purchase "their Kane puppy."
Kane is gone now too, yet five years after his death interest in this special dog has only grown. Kane's photograph on the cover of Hevener's new novel is attracting a lot of attention among dog aficionados. The National Collie Show, held in Minnesota this year, and The Victoria Collie Club of Australia, are giving Hevener's book/CD set as a gift to all of its judges. The book, and additional stories of Hevener's life with Kane, is being promoted at the National Collie Show of Canada, El Canofilo Magazine of Mexico, The Collie Revue of Germany, The Collie Club of Wales, and The Ayrshire Collie Club of Scotland, where the breed originated.
Kane has attained another kind of immortality as well. Jacqueline M. Kauffman's final resting-place, in a central Pennsylvania cemetery, is not far from the kennel she created. Her carved gravestone bears the profile of a magnificent Collie, with the words, "famed Collie breeder," etched below her name. The image of the dog carved on the granite slab is Kane. And like a scene from an old MGM movie, to honor his friend after her death, Hevener escorted the then elderly dog to Kauffman's funeral. In return for his loyal friendship, Kauffman willed her beloved Lochranza Kennels to Hevener. She also left him her library, including her old collection of Albert Payson Terhune books. Among them, of course, "Lad: A Dog".